March 31st, 2011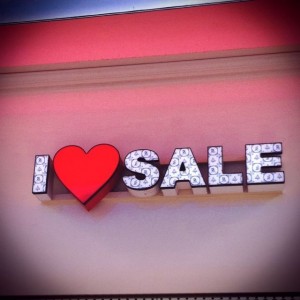 Marcel and I were walking through the city streets last night (headed back to the train station) when I came across this sign above a store.   The store was a mish-mash of inexpensive trinkets, none of which interested me, but the sign- well was a different story.  I walked past it, commenting on how cute I thought it was, and then decided to go back and take a quick shot with my 'eye' (iPhone) camera.   After running it through several applications-including a little cropping action- the result is what you see.
I think most of us who really 'love' shopping can appreciate this sign, because while shopping is great- there is something almost intoxicating about finding a good great deal.  Wouldn't you agree?    I thought you would.
Even while shopping online- before checking out, I always make it a habit of first doing a quick Google search for coupon codes for that particular shop.   More often than not- I end up finding something that will work.   
Last week I ordered a couple of cards to be mailed from Hallmark and had just entered my credit card information when I thought to myself that I should first do a quick search.   I almost didn't do it- because I figured that there probably wasn't anything going on that wasn't on the site- but I'm glad I took the extra few seconds.   I found a site that had a code for 30% off, and wouldn' t you know-  it worked!   
While typing this Marcel and I have discovered that our washing machine is having a few 'issues'.  I'm hoping that that it's something simple, otherwise I may be looking for a 'sale' on washing machines.   We're trying another load of wash and if we still get an error message at the end of the cycle- then it looks like Marcel's going to have a look and possibly call a repairman!
2 Responses to "I Love a Good Sale"