March 29th, 2011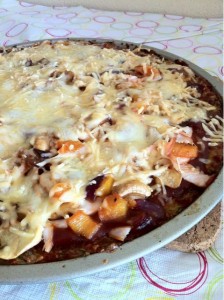 To your left- you'll see a picture of tonight's dinner.    It looks like your ordinary pizza, but I can assure you- it's anything but.   Last week, my really great friend Kimmie gave me a recipe for some zucchini pizza dough.   I had something similar last year, but this was a little different so I thought I'd give it a try.
I wasn't sure when, but as I was walking through the grocery store earlier today, in an effort to come up with something 'easy' for dinner-  this came to mind.   I had two zucchini's in the fridge at home, so I thought I'd use those.   Kimmie made a BBQ pizza and I decided I would do something similar.
I bought a smoked chicken breast- that I thinly sliced and diced into smaller pieces.    I then sautee'd two purple onions, a bell pepper and some mushrooms in a little bit of grapeseed oil.      Once the crust was baked- I added some smoked BBQ sauce, the smoked chicken, the veggies and then some low-fat cheese on top.     It went back into the oven and the picture was the result.
Marcel and I both loved it-   I love pizza anyway- but Marcel is not a huge pizza fan, so the fact that he loved it and said I should make it regularly was something big.    I thought it was that great.  We had one large piece over and it was extremely filling- not to mention healthy.
I'm going to try it with different toppings, but right now I can't imagine anything being better than the BBQ.
3 Responses to "A Different Sort of Pizza"