March 24th, 2011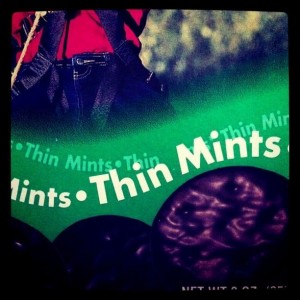 If I were a Girl Scout- I would probably weigh 350 pounds because there is no way that I'd be able to resist the cookie sale.    I haven't had Girl Scout cookies in probably close to 15 years, and I remembered tonight that there's a reason for this.
A few weeks ago, someone I know mentioned that she was taking orders for Girl Scout cookies.   Since I haven't had them in so long and since Marcel has never had them (I know- can you believe it?),  I thought I'd order a box or five.  
I ordered one box of Samoa's and four boxes of Thin Mnts.  I knew I'd freeze the Thin Mints and eat one every now and then.   No problem-   but the Samoa's, well, that's a horse of an entirely different color.  
They arrived today and I wanted to rip the box open immediately.  I didn't, of course-  I ate my dinner first and then told myself I'd have two with coffee as my dessert.    My intentions were good- but you know what they say about good intentions. …     I did have two, but before the coffee ever finished brewing, and then a few more..   That's all I'm going to say about that. (I'm so glad I only bought one box.)      Marcel loved them, and well, let's just say the box is now empty- two hours after it was opened. 
Yes, they definitely should come with a warning label.
2 Responses to "Girl Scout Cookie Time"