March 15th, 2011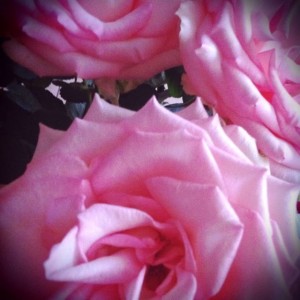 Last week Marcel surprised me with a bouquet of these beautiful pink roses. (He's been surprising me with flowers quite a lot lately and I'm certainly not complaining.)   When he brought them home, they were actually cream colored with pink edges and as they have opened, they've become a beautiful shade of pink.   I noticed a little earlier that they were in full bloom, which meant that they probably wouldn't last much longer.  I grabbed the 'eye' (iPhone, for those who don't regularly read this space) and took a quick snapshot.  I ran it through the Camera Bag app and voila' – this 'Holgaish' look.  
Someone asked me recently if roses were my favorite flowers and the truth is that they are not.  I love all flowers for their individuality, but my favorites are tulips and sunflowers if I were to have to narrow it down to two.   Gerbra daisies are also right there in the top five along with daffodils.      
My very favorite thing about flowers-  the color.    Kate Spade has a motto this year for their site and it's simply "Live Colorfully."   Each month focuses on a different color, and this month's color is 'yellow'.   I've always considered myself a pretty colorful person, and those who know me outside the confines of the world wide web would probably agree.  
Personally- I think we could all use a little more color in our lives.  Wouldn't you agree?
2 Responses to "Live Colorfully"