March 6th, 2011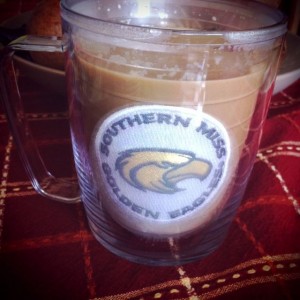 I have a group of friends coming over tomorrow for lunch- and I've been busy in the kitchen most of the day preparing food.  We're having salad (which I'll whip up tomorrow) but today I've made two different types of mini-quiches, brownies and carrot cake cupcakes.   (The cream cheese frosting is a story for another entry.) 
I decided to take a break before starting the cupcakes and sat down at the computer with a cup of coffee in one of my favorite cups.   It's a Turvis Tumbler that Samantha gave me as part of my Christmas gift with the emblem of my Alma Mater, and also the school where the twins are going to college.   
It was a great moment to relax before getting back to the cooking in the kitchen. 
I actually uploaded the picture earlier, so the coffee break and the cooking are both complete- but I did want to share a little of my day with y'all.   Exciting- I know.