March 3rd, 2011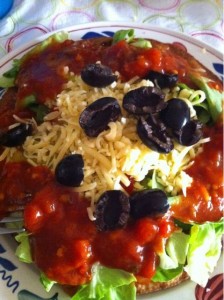 This morning someone very near and dear to my heart sent me a message and suggested I write something cheerful today.  She knows who she is and I'm grateful beyond imagination to have her in my life. 
The picture to your left is tonight's dinner-  a tostada or (homemade taco's) as Carol used to call them.   I ate them for the first time at her place, and I've made them many times in the years since.   They are one of my favorites although I do try to make them as healthy as possible by using l0w-fat cheese etc. 
These tostada's (tacos) hold a lot of happy memories for me.   It seemed that every time Carol would make them, there were always extra people at the dinner table that night, but then- that was often the case at their home.     Everyone was welcome and in Carol and Denny's eyes- the more the merrier.   It was never an inconvenience and I know many of us- myself included aren't those kind of hosts or hostesses, at least not all of the time.
I think of Carol often and think of the wonderful times that we had together in years past.   I know that I'm not the only one who misses her- but her memory lives on in all of us who loved her and believe me, there were many.
4 Responses to "In Remembrance-"