February 19th, 2011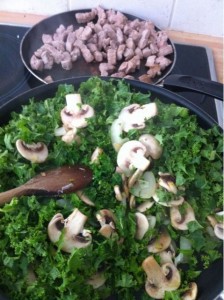 This week when I was thinking about soups for Soup Saturday,  for some reason Minstrone came to mind.    I generally order it when I go to Olive Garden, not only because it's good, but also because it's pretty low in calories and it's healthy. 
Traditional minestrone is meatless and also has some type of pasta, but after reading several recipes, I decided that I would create my own version.   I guess it is 'technically' not Minestrone- but I like to call it Minestrone My Way.  
First I decided to chop and brown about a pound of pork tenderloin. (It's a lean meat choice) –  then I sauteed onion and garlic in about a tablespoon of olive oil.   To that, I added fresh mushrooms and fresh kale.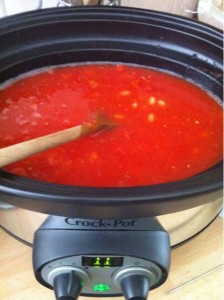 While that was sauteeing, I added two jars of white (Navy or Great Northern beans) to my Crock Pot.   I probably should have only used one jar, but before adding them to the Crock Pot I rinsed them to get rid of the excess sodium.    I do always read the labels and these didn't have an excess, but I knew that the chicken broth would also have a little sodium.    I also added two cans of chopped tomatoes and chicken stock. 
Once I was done with the sautee process, I poured everything into the Crock Pot and added some Italian seasoning.   I also added one carrot that I chopped. (I added it after I took the last picture, so you can't see it.)
This is what the mixture looked like once it was ready to start the 'slow cooking' process.   I just went in the kitchen a few minutes ago and it looks like it's almost ready.  The carrots are tender, which means that all I need to do is wait until it's dinner time, warm some fresh whole-grain french bread in the oven and we'll have ourselves a healthy meal.  
Is it good?  Honestly, I have no idea.  If the smell is any indication, then I would say yes.  I just hope Marcel likes it.   I have some fresh grated parmesean to sprinkle over the top of each bowl when I serve it.  I can't wait!  
I don't exactly have a recipe in the traditional form- but I'll give you more of an idea by at least attempting to write it out as such.
Minestrone My Way
1 pound pork tenderloin- chopped and browned in a skillet
4 cups raw kale, chopped
3 cloves garlic (or more to taste), chopped
4 cups chicken broth
1 medium sized onion, chopped
1 or 2 large cans (or jars) of Great Northern or Navy beans, rinsed
2  cans of chopped tomatoes
1 large carrot- peeled and sliced thinly.
10 ounces fresh mushrooms, sliced
Italian herbs to taste
Black pepper to taste
Fresh grated parmesean cheese (optional)
After browning pork in skillet set aside.   Combine broth, tomatoes, and beans in Crock Pot or large pan.  
Sautee onions and garlic in one tablespoon olive oil.  Once onions are transparent, add mushrooms and lastly the kale.   Stir until kale begins to wither and add to bean, tomato mixture.  Add pork at this time along with the carrot and also the spices.   Simmer for several hours until carrot is tender.  Serve with bread of your choice and with fresh grated parmesean cheese, if desired.
3 Responses to "Soup Saturday- Minestrone My Way"