February 5th, 2011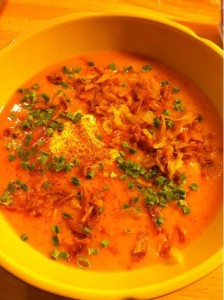 The return of Soup Saturday had me with a head of cauliflower that I bought earlier in the week and was in serious need of using or having to toss it in the garbage. (Ok, it wasn't that bad, but it still needed to be used).   You may remember the great cauliflower soup that my friend Kimmie gave me the recipe for several months ago, and I thought I'd make it, but didn't have all the ingredients on hand, so decided to just whip up something.
Yesterday I cooked the cauliflower with some vegetable stock along with three carrots and a red bell pepper.  I kept it in the fridge overnight and today I warmed it on the stove.   Once it was warm- I used my hand blender and blended everything until it was smooth and voila'   – the soup was done.
I added a little fat-free yogurt for some creamyness along with a smidge of french fried onions, dried chives and some Tony's Creole seasoning for a little kick!    It was good if I do say so myself.   So good, in fact, that I had two bowls.
If you have any Soup Saturday recipes or ideas- send them my way so I can try them- and who knows, maybe I'll feature them here next Saturday or one of the Saturday's to come.
(The lighting in the kitchen with the iPhone wasn't exactly the best- hence the yellowish tint to the picture.)