February 4th, 2011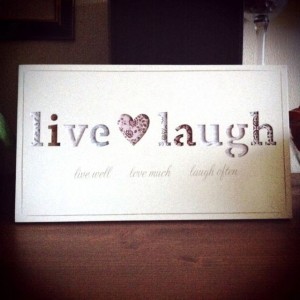 The weather here in the land of Never isn't exactly what I'd call good- and since I was busy when 5 rolled around, I decided to take an iPhone picture of the first thing that crossed my path.   That happened to be the Live, Love, Laugh sign that I have sitting on top of my entertainment center at the moment.  
It was a gift from Marcel this past Christmas and it is yet to find a place to hang in our home, but mostly because we haven't taken the time to do so.   It is a reminder that we should all take the time in our lives to love and laugh- after all there isn't enough of that going on in the world.
I hope that you will join me this week and in the weeks to come now that 5 O' Clock Friday's has returned.   Send me your picture to lori in care of this site (simplywizardress.com) or post it on your blog (and let me know about it) so I can either share the picture here, or link to your post.   
It can be anything that you encounter around the 5 am or pm time frame.   Look forward to seeing what everyone comes up with- and in the meantime- have a great weekend!
3 Responses to "5 O' Clock Friday's has Returned!"