February 3rd, 2011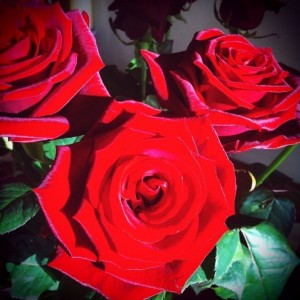 This is an 'eye'  (iPhone) picture that I took a little earlier of some of the roses that Marcel gave me yesterday for our anniversary.   The photos don't even remotely do them justice, because the red is so deep that they easily become saturated.   I ran them through the photobag application on my phone and this is the end result.
We spent most of our anniversary out looking at furniture.  I know- it doesn't exactly sound romantic, but it's something we both wanted to do, plus the weather was lacking so we figured why not.  We had lunch together while we were out and about and on the whole had a great day.
Here's to the next seven years together.
6 Responses to "Our Day at a Glance"