January 5th, 2011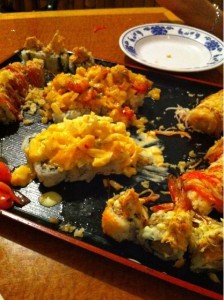 Last night Samantha and I went for some specialty sushi at my favorite sushi restaurant.   This picture is one that I actually took on one of my previous sushi visits, but the tray pretty much looked the same last night.   We ordered the same thing, with the exception of one that we changed for something else.   We weren't disappointed.
There are really few foods that I crave often- but this is one that I crave ALL the time.    I can take regular rolls or leave them, but these specialty rolls leave me wanting more.   None of this is raw-  (I'm not a fan of sashimi unless it's yellow fin tuna) and it's mouth-watering good.      If you are a fan of seafood- I can assure you that you'd love this. 
This is probably the only food I'll miss when we go home.
2 Responses to "I Heart Sushi-"