December 26th, 2010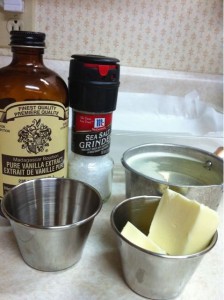 I mentioned a few days ago that I made some Sea Salt Caramels that were pretty simple to make, albeit a little time consuming, and also extremely delicious.  I flirted with the idea of chilling some and dipping them in melted chocolate but I never got around to doing that, although I am fairly certain it would be fantastic.
I promised the recipe, so I'll share it below along with the link to the original.   I first saw it in one of my " O " Magazines a few months ago, but I was able to get it from the website since I didn't have the magazine on hand.
Fleur de Sel Caramels
1 3/4 cup sugar
1 can evaporated milk
3/4 cup heavy cream
3/4 cup light corn syrup
2 Tbsp. butter
1/4 tsp. vanilla extract
1/2 Tbsp. coarse sea salt
Oil or cooking spray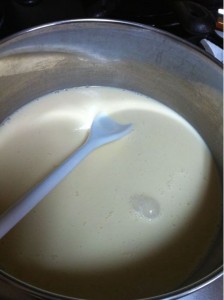 Directions
Active time: 30 minutes
Total time: 1 hour, 30 minutes
In a medium, heavy-bottomed saucepan, bring sugar, evaporated milk, and heavy cream to a boil over medium heat. Add corn syrup and continue cooking until mixture reaches 230°.
Add butter and vanilla; continue cooking, stirring constantly, until caramel reaches 240°. Remove from heat, stir in salt, and carefully pour into a lightly oiled 9″ x 13″ baking dish (parchment paper in the bottom of the pan is helpful).
Let cool at least 1 hour. Invert onto a cutting board covered with waxed or parchment paper and cut into 1-inch pieces with a sharp, lightly oiled knife. Caramels can be wrapped in waxed or parchment paper or cellophane. (To serve candy-store style, wrap individual pieces in parchment paper and secure the ends with a simple twist.) Store airtight at cool room temperature (around 65°) or in the refrigerator; will keep up to 3 weeks.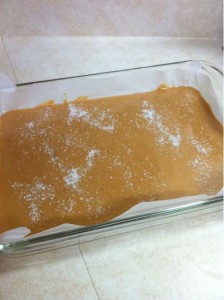 The recipe doesn't specify what size can of evaporated milk to use, so I used the larger sized can.  I ended up having to add another cup of sugar or the caramels may have never turned to caramel.  Definitely use the smaller size can, or if you use the larger size- add an extra cup of sugar. 
I'm not sure that I cooked these until they made it to 240 degrees.   The candy thermometer was getting in my way and I was worried that the caramels were going to scorch, so I ditched it and went to the old fashioned – using a cup of water and dropping a little of the caramel to see how it set up- method.   These were perfect to me.   They held together and were soft- chewy caramels. 
I wrapped them in small pieces of waxed paper, which I could have cut neater, but I was trying to get them done at the time and wasn't anticipating giving them to anyone  outside of family.   They are WELL worth the effort.  Trust me on this.
The original recipe can be found here.
One Response to "Finally- Sea Salt Caramels"