November 11th, 2010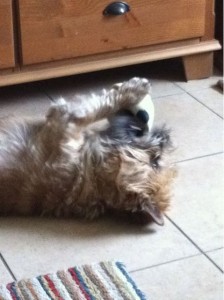 Earlier in the summer my friend Carol came for a visit with her dog Piper.   She brought along a wonderful toy for Mister M. and also this cute little soccer squeaky toy that you see JJ holding in the picture.   JJ loves balls so I had no doubt that he would love this one as well.  What I didn't know is that this particular soccer ball would instantly become his favorite. 
He plays with it ALL the time.   In fact, two months or so it got a little tear in the rubber so we thought we'd have to throw it away, but before we did that we wanted to have one to replace it.  JJ literally cries for this ball if we put it away.   We took him to the local pet store and found another ball that's the same size, only the ball is a little harder than the original.   He adopted them both and we ended up not tossing the first one since he loves it so much. 
If he has a choice- he'll ALWAYS grab the ball that Carol gave him first.  The picture is him playing with that ball this morning.  I would love to get a better shot of him on his back like that, but it happened so fast that I grabbed the iPhone (eye) and tried to at least get something.   
I think we could learn a lot from the animals in our lives.  They show us unconditional love each day, and also that it's the little things in life that really are important.  Definitely food for thought on this cold and rainy Thursday
6 Responses to "Little Things"