November 6th, 2010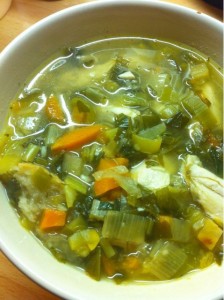 You know the old saying that chicken soup is good for the soul.  I figured since I was feeling a little under the weather that chicken soup was just what the doctor (or wizzy) ordered.  
Earlier in the week I actually had other ideas as to what I was going to make, but since I'm still fighting this sinus-flu thing, I wanted chicken soup.
The recipe is quite simple.
1 pound chicken (I used boneless-skinless chicken breasts)
4 quarts chicken stock
1 cup carrots, chopped
1 cup chopped celery
1 cup chopped leeks
1/2 cup fresh parsley, chopped
I cooked the chicken with all the vegetables in the stock- then took out the chicken, allowed it to cool and chopped it in bite sized pieces.   I tossed it back into the pan, added a little granulated garlic and black pepper.   You could also add pasta of any sort if you'd like, but I didn't.  I wanted to keep it as simple as possible.
As you can see from the bowl above- I've already had mine and it was Mmm MMMmm Good.
2 Responses to "Soup Saturday- Chicken Soup"