September 22nd, 2010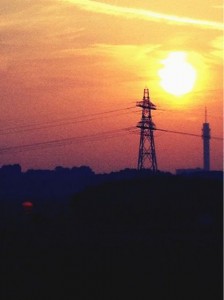 Yesterday after dinner, Marcel and I decided to take a quick trip to Starbucks for some coffee.   I had Illy at home, but sometimes you just want something difference and a Cafe' Mocha was calling my name.   As we were driving along the interstate, I noticed that in spite of the early hour, that the sun had begun to set-  a sure sign that fall is close.   I wasn't sure if my iPhone could capture the moment very well- especially driving 70 miles per hour, but I didn't think the image turned out half bad. 
I love the way the sun turned out, and for some reason the first thing that popped into my mind was 1000 splendid suns.   I know, that's the name of a book.  I've never read it, but I really loved how huge the sun looked.    Another one of those little things that I noticed that brought a smile to my face.
5 Responses to "1000 Splendid Suns"