September 16th, 2010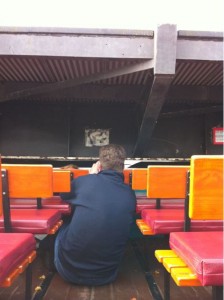 Last weekend I met up with friends in a nearby town for a day filled with fun and adventure.  One of the adventures that we decided to go on was a little boat cruise through the canals that encircle the town and that meant that we'd be traveling under plenty of small foot bridges.   
As we would travel under the bridges in the boat, we noticed that the bridges kept getting lower and lower.  At one point I thoguht it may be safer to actually sit on the floor of the boat as opposed to laying in my seat, and as you can tell from this picture, it wasn't a bad idea.    The guy in front of me is also sitting on the floor and you can see the clearing between the boat and the bridge.  There wasn't much.  It gives a new meaning to the words 'Off with her head'.
We had a great time and lots of laughs. I'd do it again in a heartbeat.
4 Responses to "Duck!!!"