April 9th, 2010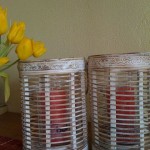 Yesterday when Marcel and I were out and about, I picked up these lanterns to use as part of our terrace project. The white-washed color of them match the bench we bought perfectly, and I can't wait to see the entire look pulled together once we get the walls painted and everything set up. It's going to be a great place to relax and listen to the fountain, to drink coffee or to lounge in the hammock in the sun.
The weather guy is calling for great weather this weekend so I'm hoping that we can get busy with it tomorrow and possibly get it finished this weekend. I may be hoping for too much, but I do believe anything is possible. Marcel spent part of the morning pulling everything off the wall, and a little later I'm going to go through everything and toss a few things that I won't be using, and store stuff that I don't want to get rid of. I'm really getting excited to see how it turns out.
Watch this space to see how it unfolds.
Oh, and don't forget the very first edition of 5 O' Clock Fridays today- Where I'll be sharing a random picture that I take today at 5. To make it more fun, I'd like for y'all to join me by sending me a picture that YOU take at 5 today. You can email it to lori (at) this domain.com (this domain being simplywizardress). You don't have to be a blogger to participate- anyone can but if you add it to your own blog, let me know and I'll link it from the 5 O' Clock Friday Entry.
You have until Saturday evening to get me your entries, and then it will be closed for this week- (but there's always next week). I'm looking forward to seeing what y'all come up with.