June 21st, 2014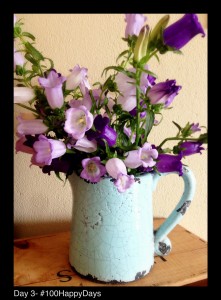 This Happy day is a lot of happy bundled up into one.   First- I love flowers, and they are a guaranteed happy for me.   Second, when said flowers happen to be from two friends, that makes them a double whammy of happy.
Earlier this week, my good friend Sarah and her friend (and now my friend) Carrie, came over for the evening to visit.  Carrie is here on vacation, and I had the great fortune of being able to spend some time with she and Sarah over the course of the time she was here visiting, and we became fast friends.
When they showed up for the visit- they gave me this beautiful bouquet of flowers.    Originally, I had put them in a clear vase, but it was clear to me the following morning- that these flowers needed to show off, so I changed them to this pitcher that I also adore.
There is nothing like spending time with friends- and since I happen to believe that friendship is the flowers in the garden of life-   this is the perfect expression of just that.   Thank you again Sarah and Carrie.