June 21st, 2014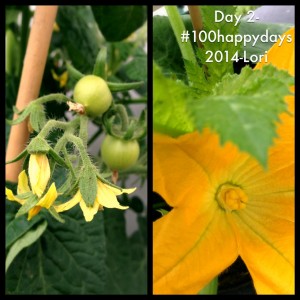 I'm running a tiny bit behind on posting my 100 Happy Days moments, but only because I haven't been on the computer that much.  I've still been posting photos daily to a public album on Facebook, plus to Instagram.   So there is a whole lot of happy swirling around.
One of my favorite things at the moment is actually scrolling the hashtag #100happydays on Facebook, and seeing the literally hundreds and hundreds of people the world over participating in bring a little more happy to their life.   It's a 'joy rising' moment for me- as I can feel the joy rising with each and every moment I see.
Day 2's happy moment was my little garden.  It's my first time growing vegetables, even though I grew up with us always having a garden.    I was always the one to 'eat' not grow, so vegetables is a new experience for me.  It excites me beyond words.  On this particular day-  I went out and my first zucchini blossom was in full bloom and I did a little happy dance right then and there.      Plus all the gorgeous yellow tomato blossoms are turning into tomatoes-  I can't wait to harvest my first pieces. I'm sure that will be another happy moment in the making.