July 22nd, 2014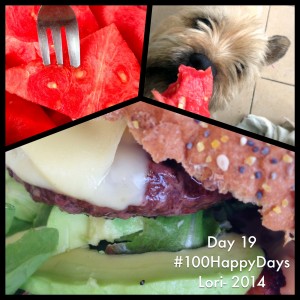 Since I'm behind posting these here to this blog-  this was originally posted on Facebook on the 4th of July.
The great thing about posting them here now- is that I can look back and be reminded of what I was doing on each particular day-  which gives me that happy feeling all over again.  That makes it a double dose of happy for the same moment, which I absolutely love.
The post associated with this day was as follows:
Celebrating 4th of July 'our style'.
Ice cold watermelon- Beef tartar burgers with bacon, mixed greens, cheese and avocado.
I'll add to that-  that JJ is definitely happy to be sharing in the watermelon fest.  He adores watermelon.