July 1st, 2014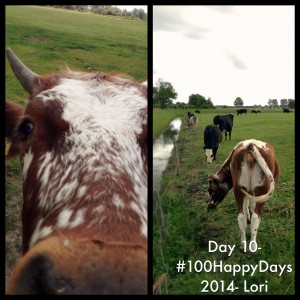 While we were out walking on this day, Jenny and I took the time to 'pause' on our walk to feed Mr. Brown cow some grass from 'the other side of the fence'.
We also paused and chatted with a neighbor, took the time to pet a couple of friendly dogs, and paused to listen to the wind rustle through the tall swamp grass.
Today's 'happy' is all about pausing and giving attention to the little things in life.
I know we all tend to get caught up in the hustle and bustle and have found ourselves becoming more and more plugged into the media, but checking-out of the world around us.    Our morning walks have not only been a great source of exercise and great girl time- but also a time to really focus on checking -in to what is right in front of us.   So it's a blessing in many ways.