March 20th, 2013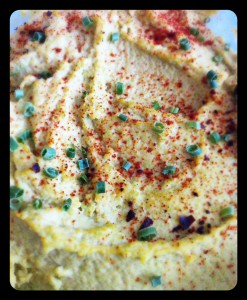 I can't believe it has actually been ten days since I last posted. So much has been happening around here, most of which involves me continually working on building my strength and getting back to 100% me. There have been a lot more ups than downs, and that is due partially to my perspective and of course, plenty of prayer.
One thing I have been doing more of is cooking and creating in the kitchen.    A couple of days ago- I made Edamame Hummus-  for a "green" food challenge I was a part of.  I'm a huge hummus fan- plus a huge edamame fan, so it was love at first taste.    After the flavors had a chance to 'marry' in the fridge overnight- I really couldn't tell a huge difference between it and the traditional hummus with chickpeas.
I still think the jalapeno-cilantro is my favorite thus far and once this one is gone-I'll be making it again.   I love the extra kick!
I'm working on a schedule which will help me be more constructive with my time-   so expect to see more posts and updates-   and also maybe some new features…. or maybe the bring back of "5 O'Clock Friday's-or Wednesdays with Wizzy"  … we'll see..   first things first.